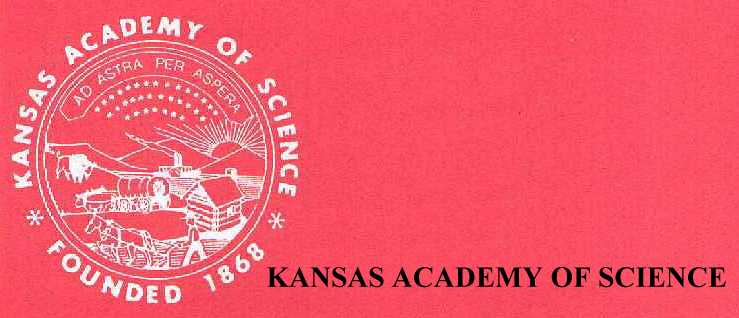 Established in 1868, the Kansas Academy of Science is the second oldest organization of its type in the country and the second oldest west of the Mississippi River. The Academy was organized to encourage education in the sciences, to disseminate scientific information, and to achieve closer cooperation between scientists and non-scientists so that they might work together to further science. The Academy is a member of the National Association of Academies of Science and is affiliated with the American Association for the Advancement of Science and the U.S. National Academy of Science.

To accomplish its goals, the Kansas Academy of Science:
organizes an annual scientific conference each spring, hosted by different universities and colleges throughout the state, where scientific papers are presented and discussed;
sponsors an annual field trip each fall to view the natural features of different parts of the State;
publishes The Transactions of the Kansas Academy of Science, a scholarly journal continuously produced since 1872, and a twice annual newsletter of Academy events, meetings, and other news;
provides distinguished lecturers to schools, colleges, and universities at no cost;
sponsors the Kansas Junior Academy of Science; and
maintains a home page on the World Wide Web that serves as a starting point for information about the Kansas Academy of Science and provides links to other scientific organizations and sources of information.
The link is: Kansas Academy of Science

The Kansas Academy of Science sponsors the Kansas Junior Academy of Science, aimed at stimulating interest among young people and offering them the opportunity to conduct research projects and present their results in a scientific setting. This organization is open to any middle school, junior high, or high school student interested in science or mathematics. Each Spring, the Junior Academy of Science holds six district meeting in the state where members report on science or mathematics projects they have undertaken. Those reports are judged by scientists and the best are chosen for a statewide meeting, then one is selected for a national meeting.

Membership in the Kansas Academy of Science is open to anyone interested in the Academy's work. Members receive The Transactions of the Kansas Academy of Science twice a year, the Kansas Academy's newsletter twice a year, reduced registration rates at the Academy's annual meeting, and an invitation to the Academy's fall field trip.
---
BACK TO THE KANSAS ACADEMY OF SCIENCE HOMEPAGE
BACK TO OCEANS OF KANSAS PALEONTOLOGY